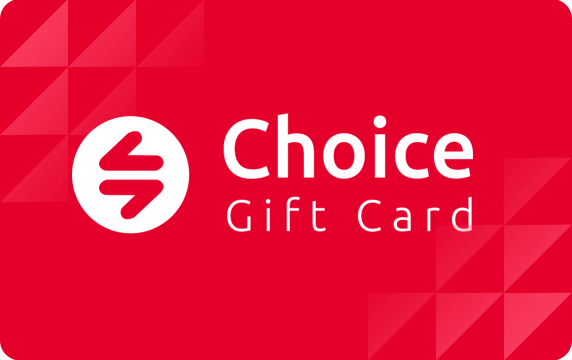 Choice Gift Card
Choices are hard, gifting is easy. Buy now and choose later with the flexible eGift card that can be spent with many of your favourite brands. The True Rewards 'Choice' eGift card is the personalised gift card that's perfect for any occasion - create a turnkey shopping spree that's as unique as you are; set-and-forget your gifts ahead of time; or get that last minute gift INSTANTLY. With the Choice card, your recipient can treat themselves with any combination of our retailers. Pay-it-forward literally. Life's too short not to make each day awesome.
The 'Choice' Card allows the receiver to swap the value for up to 4 eGifts of their choice from our store of Australia's greatest retailers. It really is the gift that keeps on giving.
Please note: If available, Google Play Gift Codes and Amazon Gift Cards are limited to one swap per card.
The True Rewards 'Choice Card' allows the receiver of the gift to swap it for an eGift of their choice of the same value. It really is the gift that keeps on giving.
This makes for the perfect gift for that someone who has everything, giving the giftee the flexibility to choose whatever they like.
If you're not sure about what gift your giftee would really enjoy, then the "Choice eGift Card" is your best choice that will put smiles on everyone.